---
Today many hospitals are being asked to review cost centers and reduce expenses. Hospital Outpatient Infusion Centers are often under this scrutiny to cut costs. Infusion center managers are challenged by this request because more and more expensive drugs are being used in the infusion center setting. This brief article will help you understand some of the pitfalls hospitals typically have with infusion centers as well as some ideas to sustain and grow profitability in the Hospital Outpatient Infusion Center or HOPD.
Here are 3 reasons why infusion therapy should be important to your hospital:
Hospitals are employing more physicians - hospitals need to take a systematic approach for caring for complex patients with chronic disease such as multiple sclerosis and Chrohn's disease and others. Infusion centers can bridge that gap in the continuum by transitioning patients from inpatient to out patient quicker and reduce length of stay. Infusion centers can also be part of an admission avoidance strategy.
Chronic disease requires chronic management - hospitals are equipped to provide comprehensive care - if the care is provided in the outpatient setting costs are lower. providing care to patients in the outpatient setting keeps costs down for both patients and the hospital.
The pharmaceutical industry has a large "pipeline" of products - many of these products will require infusion.
Should you consider an infusion center? Make sure you know your market place. I tell my clients that "all health care is local" have a solid understanding of the service gaps in your community. Don't develop services that compete with the services a large referring physician provides and make sure you create a service environment that helps your patients, your community and your hospital.
/infusion-center-consulting-turn-around
---
The #1 reason why hospital based infusion centers are not profitable is that they lack the resources to verify the patients insurance coverage - but there are 3 components you need to evaluate prior to infusion: Verification, Eligibility and Pre-Authorization.
Verification: Does the patient have insurance and what other key information do you need to know about specifics of their coverage.
Eligibility: Is the patient eligible for the time period that you will be performing infusion (I recommend checking the eligibility each month or each infusion if possible)

Patient Insurance can terminate in the middle of a month or at the end of the month for various reasons - make sure you know they have coverage.

Pre-Authorization: Does the patients insurance requirepre-authorization of this drug? If so, make sure that the patient meets the requirements of the carrier, be prepared to share patient records. In some cases you may need to "prove" failure on certain other products.

Pre-Authorization is a precise process - if the submitted claim does not match the product pre-authorized the claim may be denied for example IVIG is a category not a product. If they patient needs IVIG, make certain to pre-authorize the correct product i.e. Carimune, Flebogama, Gamunex, Gammagard, Octagam, Privigen etc.
For example I was recently working with a hospital system, we conducted a revenue cycle audit for the hospital and identified that IVIG was not being authorized correctly - a spot audit of 30 IVIG claims indicated that charges were generated of over $236,000 but actual receipts received was less than $7,000 - the primary reason for denial? Lack of authorization, or specific product authorization.
Revenue Cycle Management is critical to operate a successful infusion center - the revenue cycle starts with Verification, Eligibility and Pre-authorization. If you are not sure how this process works, make sure you connect with your liaison from the central billing office or the finance department to learn about what you can do to ensure a great process for your department, the hospital and the patient. If your not sure how your center is performing - consider a revenue cycle audit - our team can provide you with the assurance your systems are working, or help you understand opportunities for improvement.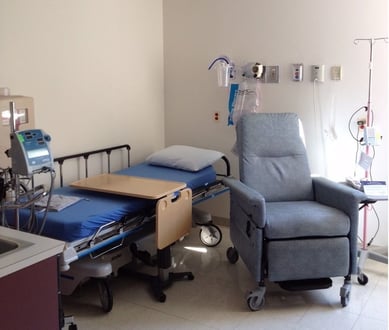 The #2 reason why hospital outpatient infusion is not profitable is the fact that infusion billing is so complicated.
The pharmaceutical products are shipped in various size vials and they are billed in various increments.

Let's use the example of the product Tysabri / natalizumab:


The product is shipped in 300 mg vials
Patients will always receive the same amount each infusion (it is not weight based dosing) the full 300 mg
Tysabri is billed in 1 mg increments utilizing the HCPCS code J2323. Therefore the quantity will be 300 units of J2323 for the drug (Plus the appropriate CPT codes for infusion)

Let's also review an example for another product Remicade /infliximab

The product is shipped in 100 mg vials
Patients will receive their dose based on their weight
Remicade is billed in 10 mg increments utilizing the HCPCS code J1745. Therefore the quantity will be 10 units of J1745 for each vial infused (plus the appropriate CPT codes for infusion)
The CPT Code for Infusion can vary depending on the product infused* Selecting the correct code is very critical to ensure the correct reimbursement. Here are 3 primary infusion categories:

Hydration:

96360 Intravenous infusion, dehydration; initial 31 minutes to 1 hour
96361 Each additional hour

Therapeutic:

96365 Intravenous infusion, for therapy prophylaxis or diagnosis
96366 Each additional hour

Chemotherapy / Complex Biologic Agent:

96413 Chemotherapy administration 1 hour
96415 Each Additional hour
*This coding information listed here is designed to be a general reference guide, coordinate billing and coding with the respective department, CPT is a copyright of the AMA
Divisor / multiplier issues related to billing software

I was recently asked to conduct assessment of a hospital outpatient department infusion center for profitability. When we conducted the audit it was determined that the hospital billing software had been incorrectly built to calculate the units of billing. When reviewed a particular product Cubicin / daptomycin (HCPCS J0878 @ 1 mg) it was determined that the hospital was charging for 1 vial (assuming that billing knew to bill to product at 500 units) unfortunately, the 1 vial was billed as 1 unit and yes that means that they were charging the insurance carriers only 1 / 500 of what they should have billed. Unfortunately, this process had been in place for many years, needless to say the incorrect billing cost this center hundreds of thousands of dollars

Know your payors and make sure you know how they expect to receive these complex claims. Correct configuration is critical. For example, we recently audited a hospital system that was transmitting claims as if they were a commercial payor - we identified over 4 thousand claims that needed to be resubmitted for total charges of over $20 million dollars.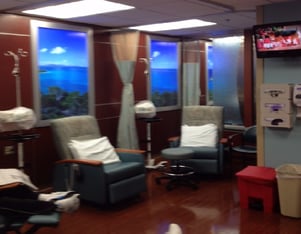 Reason #3 why infusion centers are not perceived as financially sustainable - lack of communication to referring physician
Imagine this you're a physician and you refer a case to the infusion center. You entrust your patient to their center, but but don't get any communication back. Yes, today the EMR from the hospital may transmit a huge file at the end of the encounter (sometimes days or a week after discharge ) But what I'm talking about is regular communication like:
Dr. Smith - your patient is not progressing well with the antibiotic you prescribed, Would you like one of our staff to identify alternative therapies or how would you like us to handle this?
Dr. Smith - your patient completed their course of therapy as you prescribed, all is well, thank you for allowing us to treat your patient.

Today, most doctors appreciate a quick fax or e-mail that their patient is doing well, yes compliance is a part of all of our lives so we send the voluminous documents - but think of this a a customer service opportunity.
/hospital-outpatient-department-infusion-center--call-us-today-1-866-222-4488
Reason # 4 why hospital based infusion centers are not profitable - charge master pricing
Hospital charge masters are typically updated on a regular basis (annually) but the volatile drug prices typically do not work well in that environment. Make sure you know what your drug acquisition costs are, what the reimbursement is by payor and what Medicare and others pay based on the HCPSC reimbursement. I was recently reviewing a hospital system and identified that there were a number of drugs that were being billed less that what Medicare was paying. Not only did this mean that they were not getting reimbursed correctly for Medicare, but their percentage of charges payors were reimbursing less than the Medicare rate. As you might expect there was a substantial negative margin on these products. After reviewing the charge master for a number of other products it was determined that by setting the correct fee the system could realize more than $12.9 million dollars in additional charges and actual revenue capture would be more than $6 million dollars.
Some hospitals have constantly increased pricing on drugs year over year, without regard for how this impacts the patient and how they are perceived in the market place. A recent study published in the newspaper for the same drug in the same state for various hospitals indicated that the product ranged in price from $6,000 - $22,680. Our team can help you with strategic pricing strategies that will ensure adequate margin, and keep you out of the newspapers (for the wrong reason)
Reason # 5 why hospital based infusion centers are not profitable - is a secret, they actually typically are.......
Accounting systems at hospitals are notoriously complex and are not designed to provide net profit margin for cost centers like Hospital Out Patient DepartmentsHOPD. You have to remember that infusion revenue is derived from two primary sources:

Professional Services:

The CPT Codes for Hydration / Therapeutics / Chemo & Biologic drugs provide some of the revenue - this is typically considered "professional revenue" because it is derived from the professional nurses that infuse the products

Pharmaceutical Products:

The products that are infused typically represent the majority of the profit.

Because of the complexities of hospital accounting, those two revenue sources 1) Professional Services and 2) Pharmaceutical Products are not "merged" into the one cost center. Instead, the pharmacy department often has revenue "mapped" to the pharmacy department.
To learn more about how well your infusion center is performing, please contact us for a free 30 minute consultation from an infusion expert.
Hospital based infusion centers are challenging, but infusion centers can and will likely be part of any hospital organizations strategy to reduce length of stay or to provide a venue to mitigate admissions. If you want to lean more about our consulting services, call us today for a free thirty minute telephone consultation.